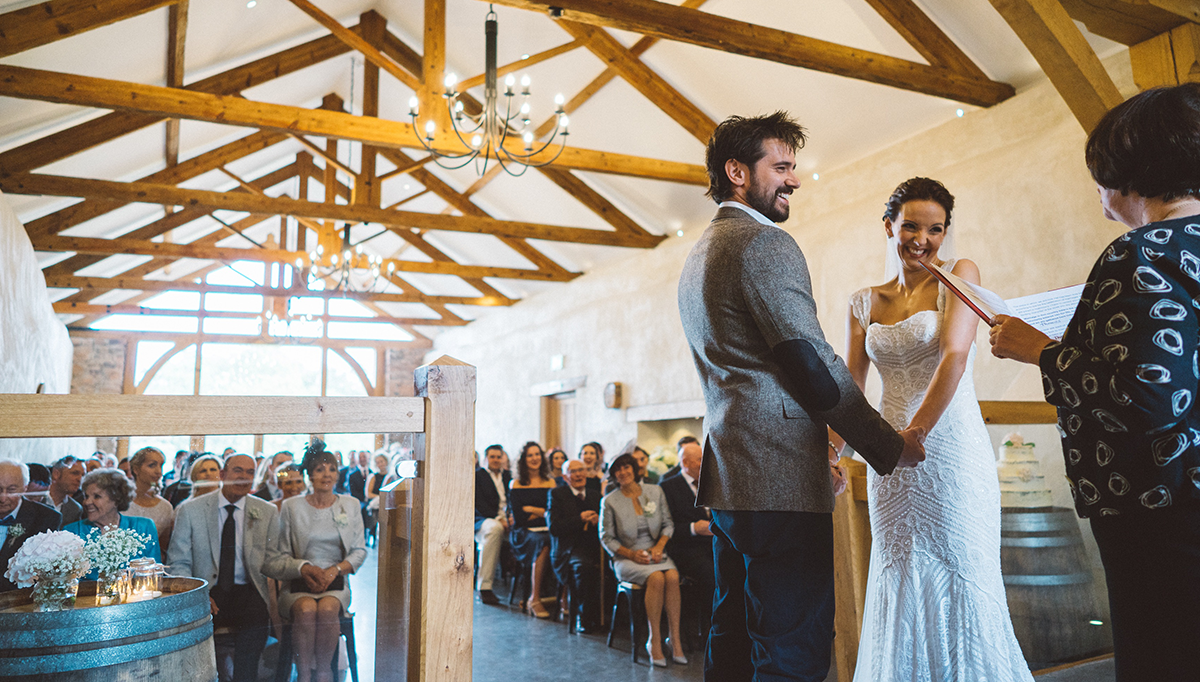 Typical Wedding Timeline
Civil Ceremony
Civil ceremonies usually take approximately 20 to 30 minutes and can take place in either The Cider Barn or The Walled Garden
Church Ceremony
Religious ceremonies can vary in length and we recommend you discuss it with your Church. As a guide; Church of England – 40 to 50 minutes. Catholic with Mass – 1 hour 30 minutes. Catholic without Mass – 45 minutes to 1 hour. Methodist and Baptist – 30 minutes to 45 minutes. Most couples tend to have photos at the Church after the service. These usually take about 15 to 30 minutes depending on how many pictures you would like. We recommend speaking with your photographer. When factoring in your timings its important to allow time for your guests to get into cars or other transport and travel to Upton Barn & Walled Garden.
Reception Drinks
We recommend leaving an hour and a half to 2 hours for your reception drinks depending on whether you are having an indoor or outdoor ceremony. This will enable you to spend some time with your guests before the wedding breakfast and have some photographs taken.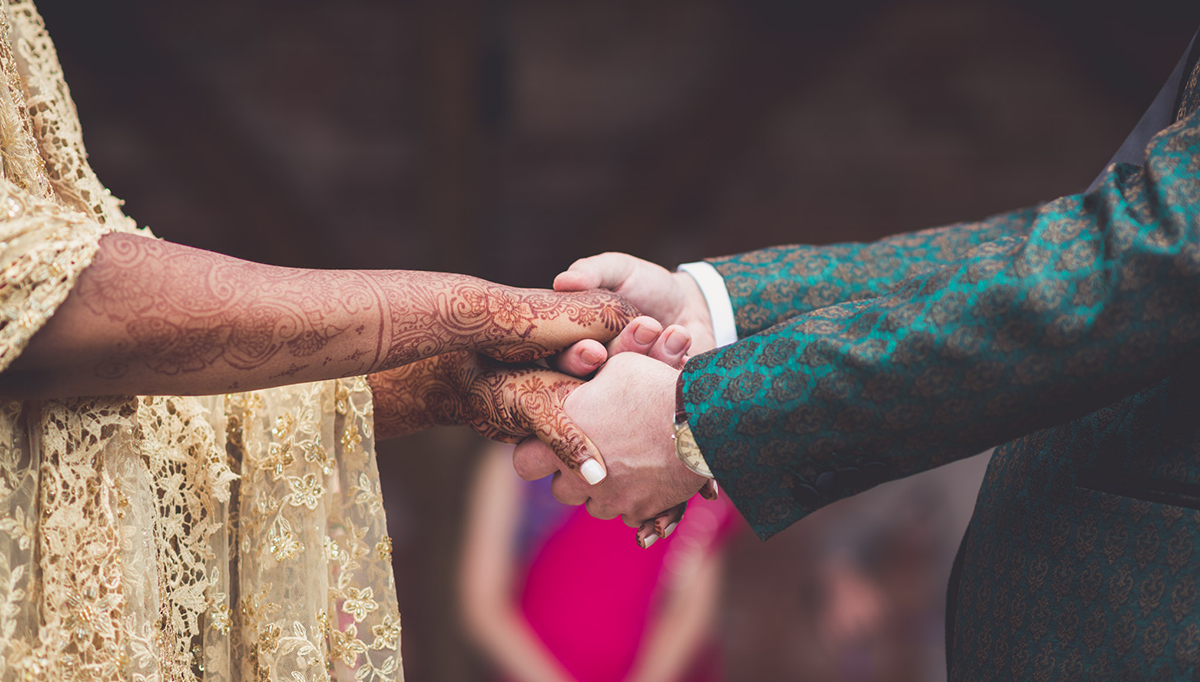 Room turnaround from Civil ceremony in The Cider Barn to your Wedding Breakfast (if required)
We suggest leaving  1 and a half  to 2 hours to relay the Cider Barn from your Ceremony Barn into your Wedding Breakfast Barn. This is a natural break in the day and is a perfect time for your Reception drinks, canapes and photographs.
Receiving Line
If you choose to have a receiving line, the time can vary dependent upon the number of guests but can take between 15 and 45 minutes.
Wedding Breakfast and Speeches
We recommend allowing between 2 and 3 hours for the wedding breakfast and Speeches. It can vary dependent upon the number of guests and your chosen menu.
Room Turnaround for your Evening Party
We suggest leaving 1 – 2 hours to turn the barn around from your Wedding Breakfast to an Evening Party Celebration room. This time includes 30 mins for the room to be cleared, but it also includes the set up time required by your musicians. This can be anything from 30 mins to 1 and a half hours (Please do check with your musician how much time they require to set up their equipment and do a sound check) This is a natural break in the day and is a perfect time for your guests to enjoy a cup of tea, coffee, or drink from The Press bar and to freshen up ready for the evening reception.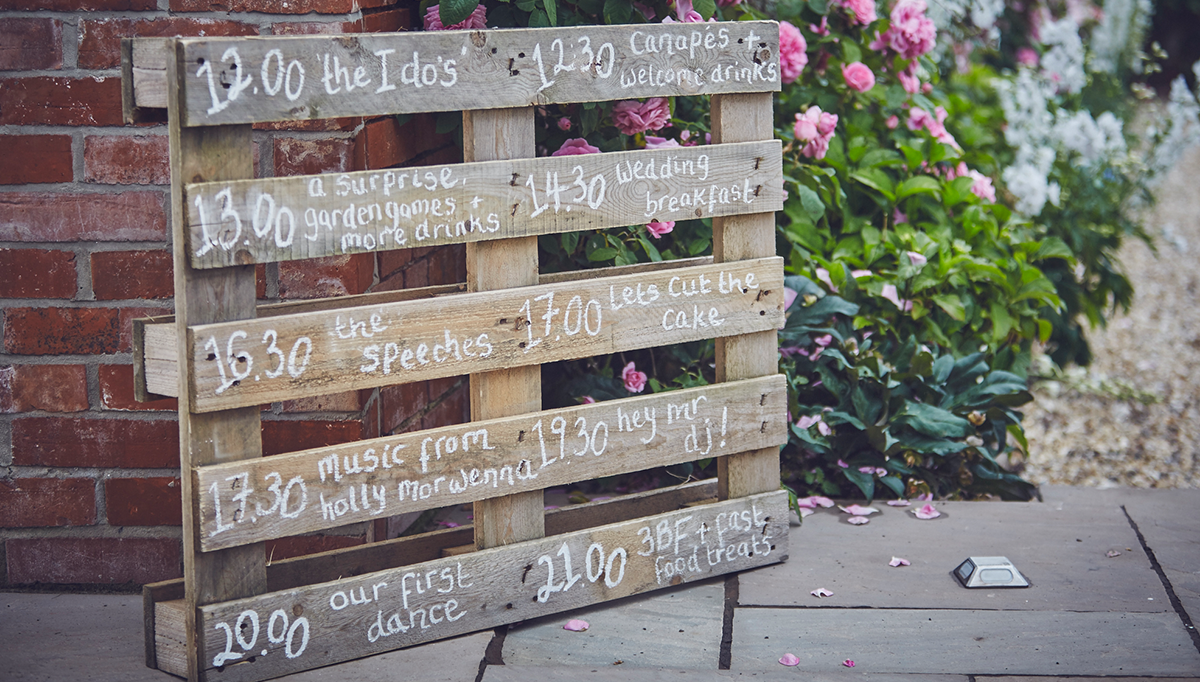 Here are some typical timelines you can expect for various weddings.



Example:Indoor Civil Ceremony


12.15pm
Groom arrives at the Venue
12.30pm
Guests arrive at Venue
01.00pm
Registrar arrives at Venue
and Groom is interviewed by registrar
01.20pm
Bride is interviewed by registrar
01.30pm
Civil Ceremony
02.00pm
Drinks reception, canapés,
photographs & Room turnaround
04.00pm
Receiving line (optional)
04.30pm
Wedding breakfast & Speeches
06.30pm
Guests move to The Press Bar.
Room turnaround & Musician set up
07.30pm
Evening reception guests arrive
08.30pm
Cutting the Cake and First dance
09.30pm
Evening food served
(Food truck caterers can start earlier)
12.00am
Music and evening reception to end
Example:Outdoor Civil Ceremony


12.15pm
Groom arrives at the Venue
12.30pm
Guests arrive at Venue
01.00pm
Registrar arrives at Venue
and Groom is interviewed by registrar
01.20pm
Bride is interviewed by registrar
01.30pm
Civil Ceremony
02.00pm
Drinks reception, canapés,
photographs & Room turnaround
04.00pm
Receiving line (optional)
04.30pm
Wedding breakfast & Speeches
06.30pm
Guests move to The Press Bar.
Room turnaround & Musician set up
07.30pm
Evening reception guests arrive
08.30pm
Cutting the Cake and First dance
09.30pm
Evening food served
(Food truck caterers can start earlier)
12.00am
Music and evening reception to end
Example:Church Service (CofE)


12.30pm
Groom and guests arrive at Church
12.45pm
Bridesmaids and Mother of Bride arrive
12.55pm
Bride arrives
01.00pm
Wedding Service
01.45pm
Photographs outside church
02.10pm
Leave Church and travel to venue
02.20pm
Drinks reception, canapés and photographs
03.50pm
Receiving line
04.20pm
Wedding breakfast & Speeches
06.50pm
Room turnaround & Musician set up
07.30pm
Evening reception guests arrive
08.30pm
Cutting of the Cake
08.35pm
First dance
09.30pm
Evening food served
(Food truck caterers can start earlier)
12.00am
Music and evening reception to end